Dental Assisting Program
Columbia, MO
Start your career in dentistry.
Learn dental assisting at Cherry Hill Dental.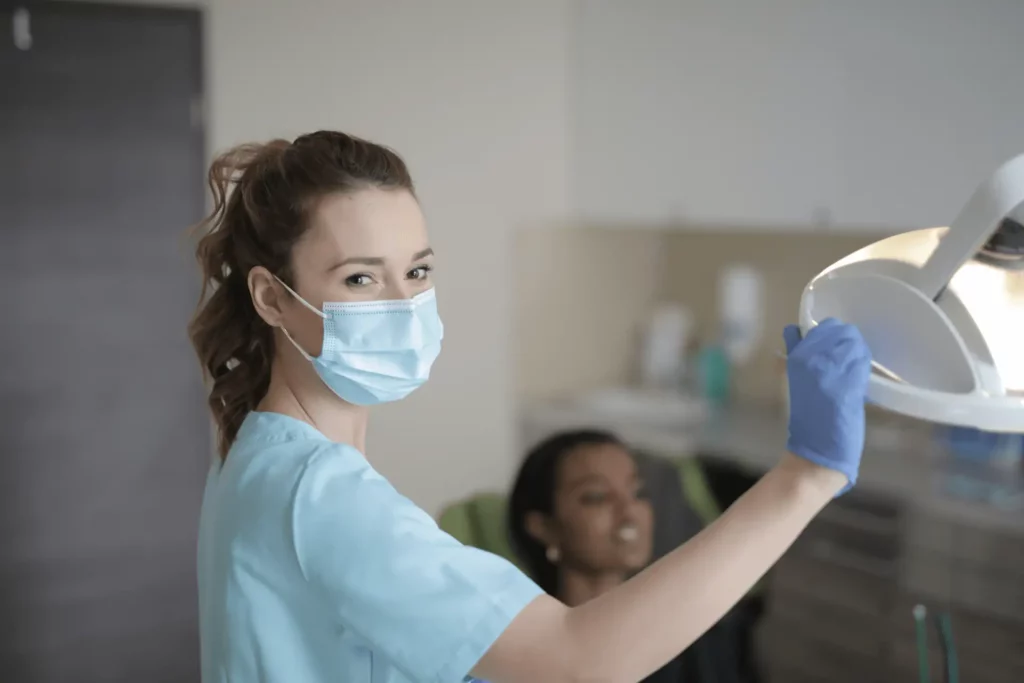 Learn to be a dental assistant
Are you interested in a career in dentistry and want to make a difference in people's lives? Look no further than our dental assisting program! Our school offers a comprehensive and hands-on curriculum that will prepare you for a successful career in dental assisting. Our experienced instructors provide individualized attention and support to ensure that you have the skills and knowledge needed to excel in your career.
In our program, you will learn the fundamentals of dental assisting, including dental anatomy, infection control, patient care, and radiography. You will also have the opportunity to gain hands-on experience through clinical rotations, where you will work alongside dentists and other oral health professionals to provide patient care. Additionally, our program prepares you for the Missouri Dental Assisting Skills (MDAS) exam, which is essential for obtaining a job in dental assisting.
Our school's dental assisting program is unique in that it focuses on providing our students with practical experience and real-world skills. We believe that the best way to prepare our students for the job market is to give them hands-on training and opportunities to work with real patients. That's why our program emphasizes clinical rotations and on-the-job training, giving our students the chance to practice their skills and gain confidence in their abilities.
In conclusion, our dental assisting program is the perfect way to jumpstart your career in dentistry. With our hands-on curriculum, experienced instructors, and emphasis on practical experience, you will be well-prepared for a successful career in dental assisting. Join us today and start your journey towards a fulfilling and rewarding career!
Your new Career
In Dentistry
Dental Assisting Program
at Cherry Hill Dental
What is the curriculum of the dental assisting program?
The curriculum for the Cherry Hill Dental Assisting Program includes a comprehensive set of topics:
Dental anatomy and terminology
Oral pathology and dental emergencies
Infection control and sterilization techniques
Dental radiography and imaging
Dental materials and instruments
Chairside assisting techniques
Dental office management and communication skills
Legal and ethical considerations in dentistry
Patient education and preventative dentistry
Specialized procedures, such as periodontics, endodontics, and orthodontics
In addition to classroom instruction, we have hands-on training in a clinical setting, where students can practice their skills under the supervision of licensed dental professionals. Clinical experiences include performing chairside procedures, taking and developing dental x-rays, and managing patient records.
What are the admission requirements for the dental assisting program?
High school diploma or equivalent: Prospective students must have a high school diploma or equivalent certificate to be eligible for admission.
Resume: Prospective students need to submit a resume that highlights their educational background, work experience, and any relevant skills or certifications.
References:
Prospective students should provide 2-3 professional references we can contact who can speak to the student's character, work ethic, and potential for success in the dental assisting field.
Immunizations:
Prospective students must provide proof of Hepatitis B Immunization. The federal office of Occupational Safety and Health Administration requires that all individuals working in a clinical setting receive Hepatitis B immunization.
What kind of hands-on experience will I get in the dental assisting program?
Chairside Assisting: You will get the opportunity to assist during simulated dental procedures, which can include taking x-rays, handing instruments to the dentist, and providing patient care.
Dental Radiography: You will learn how to take digital dental x-rays.
Sterilization and Infection Control: You will learn how to properly sterilize dental instruments and equipment, as well as how to maintain a clean and safe dental environment.
Impressions and Models:
You will learn how to take impressions of patients' teeth and create models of their dental structures.
Dental Materials: You will learn about various dental materials, including dental cements, composites, and impression materials, and how to work with them.
Administrative Tasks: You will learn how to perform various administrative tasks in a dental office, such as scheduling appointments, managing patient records, and communicating with insurance companies.
What is the cost of a dental assisting program, and are there any financing options available?
The tuition for the Cherry Hill Dental assisting program is $3600. Financing options are available, please call (573) 446-0880 for more details.
What kind of job opportunities are available to graduates of a dental assisting program?
Graduates of a dental assisting program can pursue various job opportunities in the dental field. Here are some examples:
Dental Assistant:
Graduates can work as dental assistants in dental offices, clinics, and hospitals. They assist dentists during patient procedures, prepare dental materials and instruments, and provide patient education.
Dental Hygienist:
Graduates may pursue additional education to become dental hygienists, who perform a wider range of tasks than dental assistants, such as cleaning teeth, taking x-rays, and conducting oral health assessments.
Dental Laboratory Technician:
Graduates can pursue additional training in dental laboratories, where they create prosthetic devices such as dentures, bridges, and crowns.
Dental Office Manager:
Graduates may also pursue administrative roles in dental offices, such as office managers or treatment coordinators. They handle patient records, billing and insurance claims, and manage staff schedules.
Overall, dental assisting is a growing field with a variety of job opportunities available to graduates of the dental assisting program.
What kind of career support is available for graduates of a dental assisting program?
Cherry Hill Dental makes continuous
efforts in developing relationships with dental practices throughout the Mid-Missouri area. Upon the completion of each session, local doctors will be provided a list of graduates to help fill various dental assisting openings throughout the community. Our student's have a reputation of excellence that is valued by future employers.